We manufacture hand built original equipment fuel filler hoses in a large variety of shapes and sizes.
We use a variety of polymers to suit the customers specification and also manufacture the shaped hoses as  reinforced or unreinforced depending on the application. Our range of filler hoses has grown to include ones with flattened sections and ones with branched breather hoses attached homogeneously.
As we manufacture all of our own tooling we have a response time second to none. Our experience allows us to offer any combination of bore size and hose shape that the customer may envisage as their requirement.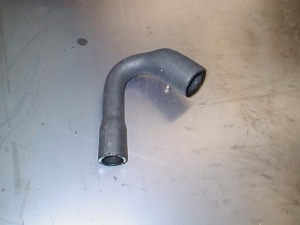 The photo shows a hose with a bore size of 25mm at one end, 38mm at the other and a 16mm bore body section