At Vertco Ltd we specialise in hoses with bonded in inserts. During our many years of manufacturing original equipment hoses for some of the UK's most prestigious companies we have produced hoses with  inserts ranging from drainage nuts, radiator caps and air sensor units to fluid flow indicators.
The only restriction being the customer imagination.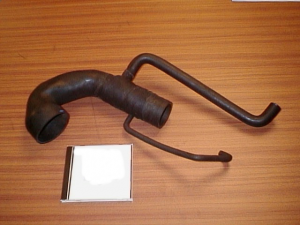 The photo above shows a 2" bore radiator hose fitted with a water flow gauge. The larger hose is a 3" to 5" bore reducer air hose with two sections of convoluted body incorporated.
Branched Radiator Leg Hoses
The Vertco Ltd method of manufacturing hoses of this type is as a single homogenous unit. This involves no additions, no second phase bonding, no adhesives and no clip fixtures.
We produce the item in one operation from raw material to vulcanisation using our ability and expertise with bot the hose production and our tooling.
The most common example of our production is a bottom engine hose which connects oil cooler, filler bottle and heater or combinations of a similar nature all form a single hose.
Also becoming popular are heater and water feed and returns as a single unit avoiding tubes and clips, air induction hoses with branches for gauges or filter blockages alarms and multi-legged oil return manifolds with as many as TWELVE separate branches.
If you feel you can challenge us we will respond with pleasure.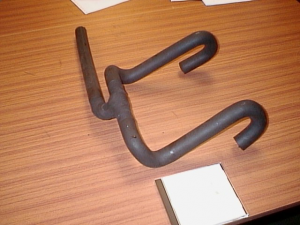 The photo shows two of our multi-legged hoses which also incorporate bore changes between both cuffs and bodies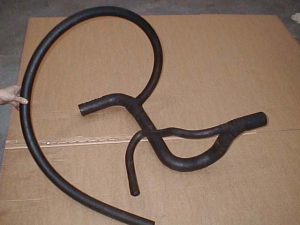 The Photograph shows a Bottom Radiator hose with 2 Homogeneously Bonded Legs .
The body of the hose is 2"id one end & 1.5"id the other. One leg is 1-1/8" id and the other leg is 1" id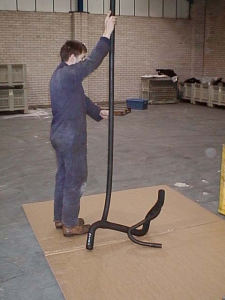 This photograph shows the above hose with the 1-1/8" id leg being held up to it's full length.